Welcome to Team Hoyt Texas!
Team Hoyt Texas's mission is to raise awareness of inclusion, educate, inspire and enrich the lives of individuals, families and communities by pairing athletes of differing abilities in endurance events to promote the Team Hoyt motto, "Yes, You Can!"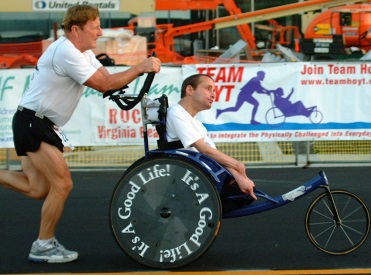 In the spring of 1977, Rick told his dad that he wanted to compete in a 5 mile road race to help raise money for a lacrosse player who had been paralyzed in an accident. Dick, a non-runner at that time, pushed Rick for the full 5 miles. The pair finished next to last, but not last. That night, Rick typed "Dad, when I'm running, it feels like my disability disappears." That was a powerful message for Dick, and that is where it all started.
Since that fateful day in 1977, Team Hoyt has finished 255 triathlons (6 being Ironman distance), 72 marathons (32 being the Boston Marathon), 97 half marathons, and many other various distance races. Team Hoyt has a marathon PR of 2:40:47 (Marine Corp. Marathon 1992) and a half marathon PR of 1:21:12. Dick and Rick are also two of only 30 total members of the Ironman Hall of Fame. In 1996 they carried the Olympic Torch. And, in 1992 they ran and biked from Santa Monica, California to Boston Harbor, covering 3735 miles in 45 straight days. As of October 5, 2014, Team Hoyt has competed in 1,116 race events. 
Rick Hoyt was born in 1962 to Dick and Judy Hoyt. During child birth, Rick's umbilical cord was wrapped around his neck cutting off the supply of oxygen to Rick's brain. He was diagnosed as a spastic quadriplegic with cerebral palsy. Doctors advised Dick and Judy to institutionalize Rick, as he would be a vegetable for the rest of his life. Dick and Judy refused and brought Rick home. Dick and Judy could tell that Rick comprehended his surroundings, even though the medical doctors continued to insist Rick was a "vegetable." In 1972, the Hoyts raised $5,000 through bake sales, a local dinner dance and donations from friends and family. They paid that amount to a group of skilled engineers at Tufts University that built an "interactive computer" for Rick. Rick was able to see the letters of the alphabet and select the ones he wanted by pressing a pad on the headrest of his wheelchair with his head, the only part of his body he can move voluntarily. The first words Rick ever "spoke" were "Go Bruins!" The Boston Bruins were in the Stanley Cup that year and it turned out Rick was a Bruins fan.
Following the Boston Bruins winning the Stanley Cup in 2011, the Hoyt's received an e-mail from Bruins' defenseman Andrew Ference. The email read, "I wanted to let you know that the Boston Bruins watched and were inspired by your video prior to our Stanley Cup victory. It would be my honor to meet you and have you join me in Boston during my day with the Stanley Cup." And they did. On April 8, 2013, a life-size bronze statue of Team Hoyt, commissioned by John Hancock, was unveiled on the lawn of the Center School in Hopkinton, just yards from the starting line of the Boston Marathon. The statue was unveiled in a 30-minute dedication ceremony. When asked about the statue, Dick said, "It doesn't get any better than that. To us this is the Stanley Cup, this is the World Series."
Following the tragedy of the 2013 Boston Marathon, Dick and Rick appeared on the Today show. It was that day that the Hoyts announced they would return to run in the 2014 Boston Marathon. "We're definitely going to run next year, and we're going to be stronger next year, and I know the marathon is going to be stronger next year," Dick said. Following the interview on the Today Show, Dick and Rick appeared on the "Katie" show.
Then on July 17, 2013, Dick and Rick received the Jimmy V Perseverance Award at the 2013 ESPY Awards. The Jimmy V Award is given to those individuals in athletics who have overcome great obstacles through perseverance and determination. The award couldn't be more fitting, with Team Hoyt's motto being, Yes, You Can!" Dick and Rick were presented the award by Boston native Ben Affleck. As the Hoyts made their way across the stage, they were greeted with a standing ovation by the room full of esteemed athletes. On Monday, April 21, 2014, Dick and Rick Hoyt ran their 32nd and final Boston Marathon together.
Team Hoyt Texas is a 501(c) nonprofit organization. All donations to Team Hoyt Texas will assist those who are differently – abled in becoming active members of their community, through the purchase of items needed to ensure they can roll with the wind in events across Texas. Donations can be made on-line through the link below or by sending a check or money order to Team Hoyt Texas, 8012 Canterberry Terrace, McKinney, Texas 75070
Team Hoyt Texas 2023 Race Schedule
Reach out any time for questions, comments or an interest in participating.